Paddle bags are used to keep your paddle boards safe whenever they are not in use. On top of providing both cushioned and heat protection, paddle bags also help you carry your paddle board around with ease. If your own a paddle board then don't forget a bag. This means that buying a paddle bag for your paddle board is a worthwhile investment. Here is a simple guide to buying a paddle bag.
Buying A Paddle Board Bag
Consider the dimensions of the bag
The first thing to think of when shopping for a paddle bag is its size. In this case, it is important to consider the size of the bag relative to the size of your paddle board. Luckily, you must not buy a bag that is exactly t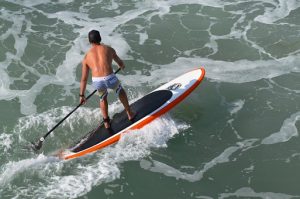 he same size as your paddle board. The bag can be slightly bigger or smaller, especially in length. Paddle board bags are available in a wide variety of sizes and you can easily get the right size for your paddle board. However, you are advised to choose a bag that is large enough to carry all your paddling accessories and tools in it. There are also paddle bags in which you can fit more than one paddle boards, so if you have two paddle boards, for instance, you can look for a paddle bag that is large enough to carry both of them. To give a good example here, some SurfStow SUP Transport Deluxe Board Bags are big enough to carry two paddle boards.
Check the overall construction and design of the paddle bag
You should take your time to inspect the salient features of the bag, from the outward appearance to the interior finishing. Precisely, check whether the exterior material of the bag is suitable for heat protection and waterproofing. Some bags such as the Kore Dry SUP UV Cover have a special outer cover that protects your paddle board from the harmful UV rays. If you paddle in hot areas, you may consider this bag. Additionally, examine the straps and confirm that they are strong enough to help you carry your paddleboard around. You may also check the design and quality of the stitches. A good paddle bag should be heavily padded and lightweight at the same time. The quality of padding determines the extent of protection that the paddle bag can provide. Finally, you can check for additional features such as external pockets, Velcro fin slots, and drainage areas.
Consider the paddle bags that are currently considered to be the best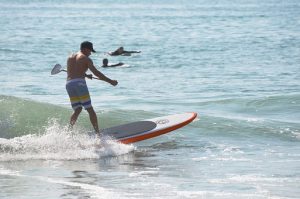 Having considered all the above factors, you can make a list of top paddle board bags according to your tastes and preferences. You should be having the following paddle bags on your list as long as you did your research well: Curve Paddleboard Bags, SurfStow SUP Transport Deluxe Board Bags, and Kore Dry SUP UV Cover. These bags have been in use for quite some time and they have been rated highly by previous users. While these are good bags, do not expose your paddle board to direct sunlight even if it is covered in one of these paddle bags. Just keep your boards safely in a cool place away from direct sunlight if you want them to last longer.