A decent kid's sleeping bag is a necessity if you have got a camping trip planned. Shopping around for the right sleeping bag can be a bit challenging when one does not know what to look out for. This is because they come in different size, shapes, rating and season. What does one look for in the best kids sleeping bags. Likewise, how do you choose the right sleeping bag for your child?
Choosing A Kids Sleeping Bag
Is your child sleeping indoors or outdoors
Selecting a bag for sleeping indoor is pretty simple. This is because you do not need to worry about temperatures or weight ratings. The bag should be simple, and it should provide warmth and enough room to sleep comfortably in. For an outdoor adventure, the sleeping bag should be able to trap less air for you kid to heat for them to keep warm.
Size
The size of the sleeping bag should be based on the height of your child. They should be shorter and narrower that adult bags which mean that there is less air for your child to heat and so it is easier for them to stay warm. As the kids grow, they can then progress to an adult sleeping bag which can help you save money by getting a sleeping bag which will serve for a long time.
Weight
If your hike involves carrying the bag for a significant distance, then weight should be a major consideration.
Style
Most kids' sleeping bags comes in mummy or rectangular shape. Rectangular shaped sleeping bags have the same width from head to toe and offer lots of rooms to move around. As such they are best for using indoors or sleeping out in summer as they provide less warmth. On the other hand, mummy shaped sleeping bags follows the natural shape of the body. It is a more efficient design for keeping your kid warm as it reduces the amount of air in the sleeping bag.
Temperature Ratings
It is impo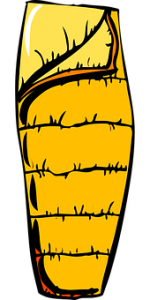 rtant to check the temperature ratings to give you a guide on suitable temperatures to help you choose a child's sleeping bag. That is right for the conditions he/she will be sleeping in.
In addition, the following factors will determine how warm your child will be;
1. Their age and gender
2. How warm they are generally
3. The speed of the wind
4. The number of kids that will be sharing a tent
5. The clothes he/she is wearing
A sleeping bag is a crucial part and parcel of the outdoor adventure and as such some thoughts need to go into which one is right for your child. Ideally, the main decision point is the size of bag that you kid needs. Another major consideration is the night time temperature and the conditions that he/she will be sleeping in. This will help you choose a bag that best suits your child.